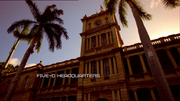 Hawaii Five-0's offices are located here with the Hawaii Five-0 Task Force (originally called State Task Force and Governor's Task Force) Headquarters which consists of the following:
Steve's Office: His desk contains the U.S. Flag, Hawaiian State Flag and Model ships.
Danny's Office: His desk has picture of Little Grace, a child's drawing and a Toy police car.
Interrogation Room: A cold, damp room shrouded in darkness which looks like a prison cell, it own has blue lighting from the ceiling. This is where Hawaii Five-0 take their suspects after arresting them during a case.
Screening Room: This area was used to watch Steve's High School football games and CHIPs marathon.
Briefing Room: This is where the team usually gather to perform briefings on their latest case or get information. The area is also used to hold meetings and discuss information concerning their latest case.
Ad blocker interference detected!
Wikia is a free-to-use site that makes money from advertising. We have a modified experience for viewers using ad blockers

Wikia is not accessible if you've made further modifications. Remove the custom ad blocker rule(s) and the page will load as expected.