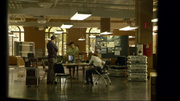 Briefing Room is a main area in the Hawaii Five-0 Building. It's also where the team usually gather for a briefing during their latest case.
In recent years, an armory has been added, presumably so that the team can get whatever weapons they need before heading out into the field.
Ad blocker interference detected!
Wikia is a free-to-use site that makes money from advertising. We have a modified experience for viewers using ad blockers

Wikia is not accessible if you've made further modifications. Remove the custom ad blocker rule(s) and the page will load as expected.