Chevrolet Camaro RS

Biographical Information
Abilities:
Police Lights
Loud Sirens
GPS
Affiliations:
Physical Description
Colour:
Silver
Episode Information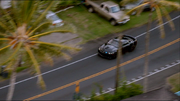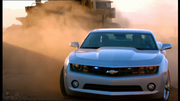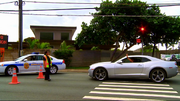 The silver Chevrolet Camaro RS is a car that is owned by the second-in-command of the Hawaii Five-O Task Force, Detective Danny Williams, replacing the Mustang GT 5.0 that Danny originally drove in the pilot with his partner, Lieutenant Commander Steve McGarret usually driving it despite Danny having insisted on occasion that it is his car.
It's equipped with police lights, loud sirens and a GPS.
With its powerful engine, it has helped give both Danny and Steve an edge over numerous suspects many times.
During the Season 2 episode, Pa Make Loa (episode) which is also a crossover with NCIS: Los Angeles, Special Agent Sam Hanna suggests "Winnifred" as the name while Danny suggests "Misty".
In the Season 4 premiere episode, Aloha ke kahi I ke kahi (episode), members of the terrorist group, NLM threw a grenade into the first Camaro, ultimately destroying it and much to Danny's dismay.
In the next episode, A'ale Ma'a Wau (episode), the silver Camaro's replacement was introduced: a black Camaro, the 2014 Camaro SS model (possibly) with the 1LE Package.
Contains:
Tac vests.
Large Rock stuck in front window (Kono explains to Danny that since it is a heiau (ancient Hawaiian temple) they have to wait for the Kahu (the priest) to bless them and ask for the spirits (Danny refers to them as magic ghosts) permission before they can enter. Danny thinks that's dumb and says he thinks the spirits will make an exception so they can catch a murder. He then enters the crime scene alone getting many gasps from the other officers. After making his examinations Danny jokes saying. Uh, evil spirits, they gonna come and curse me now, or what? Once Danny and Steve return to the car they find the large rock in the windshield. Steve chuckles and says you should of waited for the priest, buddy to Danny. They eventually discover that it want the spirits who damaged the car but a homeless veteran who took it upon himself to watch over the temple.
Gas masks (2.17).
Cell Interceptor (2.13).
Steve's SEAL gear (1.07).
Grenade (1.17).
Smoke grenade (2.17) .
Danny's surfboard (1.15)?
Large stuffed pink rabbit (Pilot)- Danny eventually gives this to a little girl during the episode.
Cake (2.19).
Picture of Grace and postcard of New Jersey tucked into sun visor.
Ad blocker interference detected!
Wikia is a free-to-use site that makes money from advertising. We have a modified experience for viewers using ad blockers

Wikia is not accessible if you've made further modifications. Remove the custom ad blocker rule(s) and the page will load as expected.