Ha'awe Make Loa (Death Wish) is the 9th episode of Season 3 in the remake version of Hawaii Five-0.
Max and his crush are put in harm's way when they get involved in a botched bank robbery with the investigation leading the H50 team to determine that the criminals had very unexpected motives. Meanwhile, Danny must save the most beautiful women in the world, Victoria's Secret models, from a murderous stalker.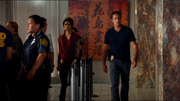 Hawaii Five-0 investigates a bank robbery where two people are shot with one being a witness, Sabrina Lane, who Max Bergman was romantically interested in.
One of the people shot, Jim Rogers, later dies in hospital.
The leader is identified as being mob enforcer Martin Cordova, with the team realizing that Rogers paid Cordova to rob the bank and attempt a kidnapping so that Rogers could die a hero to win the trust of his family as both Rogers and Cordova are terminally ill, both men dying from cancer.
The team track Cordova to a hospital, with Cordova kidnapping Steve McGarrett and taking him to a remote area in the hope that Steve will kill him, Cordova having decided that he prefers to die rather than slowly dying from the cancer. Despite this, Cordova is eventually arrested when the rest of the team locate both Steve and Cordova.
Meanwhile, Danny is tasked with guarding a group of Victoria's Secret's models who have been receiving threatening letters from a stalker.
When the stalker is later identified as Denise Pope, Danny is forced to kill Pope when Pope attempts to kill one of the models.
Danny Williams: (shows Grace's pictures) She's pretty, right?
Behati Prinsloo: Her mother must be gorgeous.
Danny Williams: Her mother's a very pretty lady, but people say that she, um... she looks like me.
Behati Prinsloo: don't see it.
Danny Williams: You don't, huh?
Behati Prinsloo: No.
Danny Williams: Huh.
Behati Prinsloo: I'm kidding. I'm just busting your stones.
Danny Williams: That's very nice.
Recurring/Guest Starring
Edit
| Name | Portrayed by | Role |
| --- | --- | --- |
| Martin Cordova | C. Thomas Howell | A man who appears in the episode. |
| Behati Prinsloo | Behati Prinsloo | Herself / Victoria Secret Angel |
| Jim Rogers | Lochlyn Munro | A man who appears in the episode. |
| Makani Jacobs | Allen Theosky Rowe | A man who appears in the episode. |
| Arlo | Billy Malone | A man who appears in the episode. |
| Nina | Jacquelyn Jablonski | A woman who appears in the episode. |
| Victoria's Secret Model | Natasha Overin | A woman who appears in the episode. |