Ho'opio (To Take Captive) is the 22nd episode of Season 3 in the remake version of Hawaii Five-0.
When the body of a child who was kidnapped 10 years earlier is discovered, Five-0 must hunt down the kidnappers who have now taken their next victim with the case hitting far too close to home for Danny. Meanwhile, Kono asks Catherine for a favor that could damage her relationship with Adam.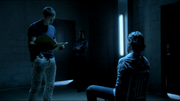 Having gone missing ten years previously, seventeen-year-old Amanda Morris is found dead, having been shot in the back which prompts the Hawaii Five-0 team to investigate.
Things take a turn when the team learn that six-year-old Ella Bishop has gone missing, leading the team to suspect that whoever killed Amanda may be responsible for Ella's abduction.
The team identify the kidnapper as Helen Cantera although Helen chooses to commit suicide by shooting herself rather than get arrested and ultimately give up Ella's location.
Despite that, the team soon discover that husband and wife duo, Ray and Terry Beckett are responsible and the Becketts have been holding the children hostage for ten years in order to get their social security money.
Furthermore, on the eve of their eighteenth birthday, Ray kills the girls before they kidnap a new girl.
Despite Ray having hidden Ella, Danny Williams who has been left on edge regarding the case given how he himself has a young daughter manages to beat the location out of Ray while Danny's partner, Steve McGarrett simply leaves.
Ella is eventually found and saved, Ray having buried her in a shallow grave with Ella being reunited with her overjoyed parents while Amanda Morris's parents begin grieving for their dead daughter, having read over the diary that Amanda kept while she was in captivity.
In the meantime, Danny visits Grace and hugs her.
Meanwhile, Kono Kalakaua] learns from Catherine Rollins that Adam is out to meet with "Sato", who through Catherine's assistance, is revealed to be one of the leading members of the Yakuza.
This story is inspired by the real-life case of Maile Gilbert, a six-year-old girl who was abducted from a family party in 1985 by a friend of the Gilbert family and later murdered with her body being found a day after her disappearance. Her father, Tip Gilbert appears in this episode as himself.
The music that plays towards the end of the episode is the Dead Island Trailer Theme by Giles Lamb.
Series Regulars
Edit
Guest Starring
Edit
Other Cast
Edit
| Name | Portrayed by | Role |
| --- | --- | --- |
| Ray Beckett | Henry Rollins | The man responsible for Amanda Morris's murder and Ella Bishop's abduction. |
| Lloyd Grimes | Don Swayze | A suspect. |
| Terry Beckett | Mare Winningham | Ray's wife. |
| Amanda Morris | Kanani Rose Rogers | The main murder victim. |
| Ella Bishop | Mykayla Sohn | A young girl who is kidnapped shortly after Amanda Morris's murder. Is later rescued by H50. |
| Henry Morris | Adam Lieberman | Amanda Morris's father. |
| Tess Morris | Mia Adams | Amanda Morris's mother. |
| Joyce Bishop | Jodi Jarvis | Ella Bishop's mother. |
| Don Bishop | Brent Dupuis | Ella Bishop's father. |
Ad blocker interference detected!
Wikia is a free-to-use site that makes money from advertising. We have a modified experience for viewers using ad blockers

Wikia is not accessible if you've made further modifications. Remove the custom ad blocker rule(s) and the page will load as expected.