I Helu Pu (The Reckoning) is the 15th episode of Season 2 in the remake version of Hawaii Five-0.
The team attends Governor Denning's fundraiser but things take a turn when the body of a woman is discovered. Under orders from Denning and not to disrupt the charity event, the team choose to run a silent, low-key investigation, hoping to find the killer with the outcome ultimately resulting in one of the team losing their job for good.
The Hawaii Five-0 Task Force along with Catherine Rollins are busy attending a silent auction charity event in a hotel.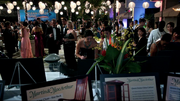 However, things change when the body of a young woman is found.
Despite their efforts, Governor Samuel Denning refuses to lock down the hotel, forcing the team to launch a low-key investigation so as to not disrupt the event.
The team soon find a link between the victim, Victoria Chase, and the corporation Garlin International. They soon meet Victoria's sister, Amanda Chase who was worked at the corporation and who was raped by her boss, Dimitri Vonokov with the team suspecting that Vonikov killed Victoria as Victoria was seeking revenge against Vonikov.
Unfortunately, the team can't question Vonikov as he's hiding at the Russian consulate.
To get Vonikov out, Chin Ho Kelly breaks into the consulate with a fake bomb, triggering a huge international incident.
Vonikov later escapes but is chased by Steve McGarrett although both men are hit by a car driven by Agent Lori Weston.
Both are later taken to hospital for treatment with Kono Kalakaua surreptitiously obtaining a blood sample from Vonikov during his surgery, and with it they prove Vonikov was the murderer.
However, despite the case being solved, the fallout from the international incident triggered by the fake bomb crisis has Lori resigning from the task force for good with Lori visiting Steve's office and telling Steve she has feelings for him.
Danny knows a few sentences in Russian.
Danny Williams: (about the tickets) They are my tickets Steve!
Steve McGarrett: (Steve is realizing he and the team are in deep trouble) The Governor is going to love this.
Lori Weston: Don't worry about the Governor, I'll take care of it. Get better.
This episode marks the final appearance of Lauren German as a main cast member credited as "also starring".
Recurring/Guest Starring
Edit
| Name | Portrayed by | Role |
| --- | --- | --- |
| Amanda Chase | Sarah Habel | Victoria Chase's sister. |
| Dennis Mack | Ryan Merriman | A man who appears in the episode. |
| Andrei Shepkin | Michael Reilly Burke | A man who appears in the episode. |
| Dimitri Vonokov | Brian Hite | Responsible for murdering a woman |
| Jake Almeda | Kimo Kahoano | A man who appears in the episode. |
| Roger Furman | Jordan Kirkwood | A man who appears in the episode. |
| Ms. Chun | Linda Sato | A woman who appears in the episode. |