Imi Loko Ka 'Uhane (Seek Within One's Soul) is the 21st episode of Season 3 in the remake version of Hawaii Five-0.
Five-0 allows a talk show host and her crew to follow them for the day, but the investigation turns dangerous when they have a run-in with Wo Fat.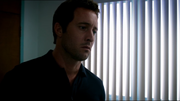 Five-0's case of a mutilated corpse is overshadowed by Savannah Walker (Aisha Tyler), a daytime talk show host who is profiling the unit on her series.
While Five-0 investigates, Walker inadvertently walks into Wo Fat, disguised as a patrol officer.
After Wo Fat escapes, the team later conclude he did not murder the victim. A later lead indicating the Russian mafia was responsible is also ruled out.
It is later revealed that the victim, identified as Roger Carson, worked in the Bureau of Engraving and Printing and had a tattoo with a map on it.
After replicating the map and deducing that the girlfriend's brother was responsible, the team rush to the same place on the map to find the murderer dead.
Wo Fat attempts to escape by helicopter, only for Five-0 to shoot it down. Wo Fat is later arrested, after sustaining severe burns on one side of his face from the crash.
Deaths
1 person murdered off-screen.
Recurring/Guest Starring
Edit
| Name | Portrayed by | Role |
| --- | --- | --- |
| Savannah Walker | Aisha Tyler | A reporter who follows Hawaii Five-0 around. |
| Kammie Leeds | Lili Mirojnick | A woman who appears in the episode. |
| Agent Kershaw | Noah Beggs | A man who appears in the episode. |