Ka Hakaka Maika'i (The Good Fight) is the 6th episode of Season 2 in the remake version of Hawaii Five-0.
While Five-0 attempts to discover the truth behind the circumstances surrounding the death of a well-known Honolulu businessman, Steve and Joe get a visit from NCIS Special Agent Kensi Blye who helps them with the video of the meeting between Steve's father, Governor Jameson and Wo Fat.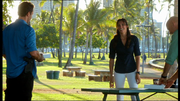 In a small park in downtown Honolulu, Steve McGarrett meets his mentor, Joe White who introduces him to Special Agent Kensi Blye, an agent with the Naval Criminal Investigation Service out of the NCIS Office of Special Projects in Los Angeles.
Steve also learns that Kensi has watched the video showing his father, John McGarrett attending a meeting with deceased Governor Pat Jameson and crime boss Wo Fat.
In addition, Steve learns that John is saying the word, "Shelburne" over and over again with Kensi having gotten the word thanks to the fact that she's a lip-reader.
Unfortunately, Steve has to leave after getting a call concerning a new case.
A while later, Steve arrives at the home of Jake Griffin with the house being full of members of the Honolulu Police Department and the Hawaii Five-0 Task Force who are busy processing the crime scene.
Jake is dead, having drowned in the swimming pool of his home.
The team investigate Jake's murder and realize that it could be connected to a series of home invasions that have taken place recently.
A while later, the team invade a house where the family who live there are being held hostage and they successfully apprehend all the members of the gang with H50 realizing the gang did not kill Jake.
They soon realize that Jake's brother-in-law, mixed martial arts (MMA) instructor Marshall Martel is the one responsible for killing Jake and Marshall attempted to cover up the killing as a home invasion gone wrong.
Steve later participates in a charity MMA fight against Chuck Liddell, taking the place of another fighter, Vitor Boriero who Steve injured while chasing Boriero.
Despite his best efforts, Steve loses to Liddell.
Meanwhile, Joe meets Wo White with the two men getting into a brutal fight.
After Joe manages to recover with Wo Fat having fled, he heads to Mokoto's place, only to learn that Wo Fat has killed Mokoto.
Daniela Ruah who plays Kensi Blye is credited as a Special Guest Star.
Kensi Blye who appears in this episode is a main character on the CBS crime drama series, NCIS: Los Angeles which is a spin-off of the main NCIS series.
Recurring/Guest Starring
Edit
| Name | Portrayed by | Role |
| --- | --- | --- |
| Special Agent Kensi Blye | Daniela Ruah | An agent with the Naval CIS or NCIS, she works for the agency's Office of Special Projects in Los Angeles and is a friend of Joe White. |
| Agent Lori Weston | Lauren German | The newest addition of the H50 team who resigns for good in the aftermath of an international incident at the Russian Embassy. |
| Wo Fat | Mark Dacascos | A crime boss targeting Shelburne who is Steve's mother, Doris. |
| Kamekona | Teila Tuli | An associate of the H50 team, and owner of Wailoa Shave Ice‏ |
| Joe White | Terry O'Quinn | Former Navy SEAL CO, and Steve McGarrett's mentor. |
| Name | Portrayed by | Role |
| --- | --- | --- |
| Marshall Martel | Shawn Hatosy | A man responsible for the death of Jake Griffin, his own brother-in-law. Is the husband of Samantha Martel. |
| Samantha Martel | Annie Wersching | Jake Griffin's sister and Marshall Martel's wife. |
| Vitor Boriero | Gino Anthony Pesi | A suspect. |
| Chuck Liddell | Chuck Liddell | A Mixed Martial Arts fighter. |
| Josh Griffin | Dylan Bell | Jake Griffin's son. |
| Dave Lockhart | Kila Packett | A suspect. |