Ka Iwi Kapu (Sacred Bones) is the 7th episode of Season 2 of the 2010 remake version of Hawaii Five-0.
It's Halloween in Hawaii but the team's celebrations are put on the back-burner when they discover that the death of a young couple may be linked to a serial killer.
While exploring a sacred burial ground and also shooting a documentary, a young couple are attacked and brutally murdered.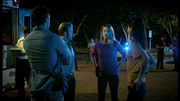 As such, the Hawaii Five-0 Task Force are called in to investigate the circumstances.
During the autopsy, Max Bergman discovers a fingerprint from a criminal who was killed by his girlfriend several months ago.
Danny Williams and Agent Lori Weston with help from Gabrielle Asano later return to the graveyard and by using ground-penetrating radar, uncover several bodies not belonging to the ancient Hawaiians.
They soon discover that the killer is Jacob Garrison who is not a serial killer but actually a body parts trafficker for the black market.
However, when Steve McGarrett, Danny Williams, Chin Ho Kelly and Agent Lori Weston confront Garrison, demanding that he give up, Garrison chooses to burn himself alive to stop them from capturing him.
Danny later acquires an apartment belonging to one of the victims but after believing he saw a ghost of one of the previous tenants, Danny orders the rest of the team pack up the belongings much to their dismay while Steve tries to get to Danny to presumably either change his mind or get Danny to tell him what happened.
Max Bergman always dressed up like a Keanu Reeves characters for Halloween
Danny Williams: I'm very sorry. I know we're supposed to go trick-or-treating, but Daddy just got called to work, okay? So I gotta go and I gotta take you back to Mom's, okay?
Grace Williams: I'll get my stuff!
(Grace eagerly runs to apartment to get her stuff)
Danny Williams: I can tell you are just crushed. Shattered at the change of plans. Really bummed, I can see.
Lori Weston: Damn it! He got the drop on me. Sorry.
Steve McGarrett: Don't say sorry. He could've killed you.
Suspect Samuel Lee is played by Robert Englund who played Fredy Kreuger in The Nightmare on Elm Street movies.
In the teaser a Full Moon is shown over the Oahu island. On October 31st 2011, the moon in Oahu was actually in its First Quarter (five days after the New Moon).
Recurring/Guest Starring
Edit
| Name | Portrayed by | Role |
| --- | --- | --- |
| Samuel Lee | Robert Englund | A homeless man. |
| Christian O'Connor | Ryan Devlin | A man who appears in the episode. |
| Tyler Mitchell | David Paul Starr | A man who appears in the episode. Is later found dead, having been embalmed alive. |
| Jacob Garrison | Phil Culotta | The killer. |
| Kat Forester | Tani Lynn Fujimoto | A woman who appears in the episode. |
| Mrs. Kekoa | Marlene Sai | A woman who appears in the episode. |
References
Edit