Kahu (Guardian) is the 11th episode of Season 3 in the remake version of Hawaii Five-0.
Christmas in Hawaii sees Steve and Catherine working together as they and the rest of the Hawaii Five-0 attempt to track down the missing father of a young boy who may be in deadly trouble in the backwoods of Oahu.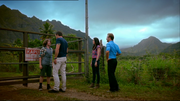 As Hawaii prepares to celebrate Christmas, Steve McGarrett and Catherine Rollins meet young teenager Ethan Awana who wants help in finding his father.
As Steve and Catherine help Ethan, Danny Williams and Chin Ho Kelly investigate the crime scene concerning a general store where someone was shot and find blood there.
Ethan attempts to give Steve the slip but is found.
Meanwhile, as she searches Ethan's home, Catherine finds $30,000 in the basement. It is later revealed that Ethan's father was unknowingly helping a member of a gang that robbed a bank in Chicago some time ago and whose colleagues are now after his cut.
Catherine manages to subdue Bruce's captor in the basement and locks him there until Five-0 arrests him.
Series Regulars
Edit
Guest Starring
Edit
Other Cast
Edit
| Name | Portrayed by | Role |
| --- | --- | --- |
| Uncle Choi | George Takei | A man who appears in the episode. |
| Ethan Awana | Tristan Lake Leabu | Bruce's son. |
| Moku Bradford | Juan Gabriel Pareja | A man who appears in the episode. |
| Stuart Rizzi | Lew Temple | A man who appears in the episode. |
| Bruce Awana | Andrew Elvis Miller | Ethan's father. |
Ad blocker interference detected!
Wikia is a free-to-use site that makes money from advertising. We have a modified experience for viewers using ad blockers

Wikia is not accessible if you've made further modifications. Remove the custom ad blocker rule(s) and the page will load as expected.