Kalele (Faith) is the 19th episode of Season 2 in the remake version of Hawaii Five-0.
Hawaii Five-0 comes to Mary's aid when she reveals that she's being forced to smuggle blood diamonds to save the life of fellow fight attendant and friend, Angela.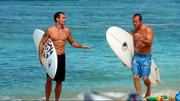 Steve McGarrett's sister Mary McGarrett arrives in Hawaii, where she meets her brother and Danny Williams on the beach, with the two who have been surfing getting a huge surprise at Mary's appearance and even more so when Mary reveals that she's a flight attendant.
When Mary returns to her hotel room, she meets Jordan Nevins who reveals that Mary's colleague and friend, Angela Branson, is being held prisoner with Nevins forcing Mary to smuggle $20 million worth of conflict diamonds to New York, or else Angela will die.
Despite her efforts, Mary is eventually caught, leading the Hawaii Five-0 Task Force to get involved. As such, they've got nine hours to save Angela.
The team investigates and discovers that the confiscated diamonds were taken by Daryl Kaleo, the brother of disgraced Honolulu Police Department detective Detective Kaleo, whom Danny put away for murdering Danny's partner the previous year.
Hawaii Five-0 and Captain Vince Fryer later team up with Danny and Fryer visiting Detective Kaleo's cell, in which the two confront the disgraced Detective with Detective Kaleo denying that he's involved with his brother. Detective Kaleo later crosses the line by asking about Grace Williams, Danny's daughter.
Fryer eventually finds a cell phone in Detective Kaleo's bed with Kaleo stating that it could have been planted there which doesn't convince Fryer and Danny.
As they leave, Danny threatens Detective Kaleo, stating that if Kaleo mentions Danny's daughter again, then Danny will kill Kaleo.
The team soon bring in August March, who originally served a thirty year sentence for diamond smuggling, and they soon find Nevins, with Nevins claiming that Angela organized her own kidnapping in the hope of getting Mary to play along.
Despite the team's efforts, Angela isn't found while Mary is eventually allowed to return to work.
At the harbor, Angela emerges and sells the diamond to March, but in a surprise twist, March, who's the mastermind, produces a gun and shoots Angela dead, with Angela falling into the harbor while March heads off into the night.
Major Events
Edit
Edward Asner played August March, he originally played over 36 years ago on the original Hawaii Five-O.
The season 2 box set gag reel shows that a prank was played on Alex O'Loughlin during the birthday cake scene: a makeup person distracted him while Grace Park sprinkled salt on the piece of cake that he was about to eat on camera.
Recurring/Guest Starring
Edit
| Name | Portrayed by | Role |
| --- | --- | --- |
| Jordan Nevins | Tony Todd | A suspect. |
| Angela Branson | Rebecca Ocampo | Mary's colleague. |