Lekio (Radio) is the 18th episode of Season 2 in the remake version of Hawaii Five-0.
The team investigates when a pirate radio host is murdered after a bomb explodes on the boat that the host is on.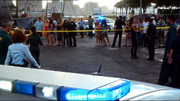 Five-0 probes the death of pirate radio DJ Bobby Raines (Dennis Miller), who was killed in his home studio by an IED. The investigation pauses temporarily when his body is stolen by his fans, known as "Acolytes". When the body is recovered, they uncover a prime suspect, retired NYPD bomb expert Tony Archer whose team of officers was a constant target of Raines. However, they find the two are actually good friends.
Together, they learned that Raines worked for a charity financing emancipations. One suspect has motive when Raines emancipated the suspect's son.
It turns out that the killer was Karen Whitfield only to be killed herself by her male accomplice, Todd Dutton who later confesses to murdering Karen as he wanted her out of his life.
James Caan who appears in the episode, playing Tony Archer and who is credited as a Special Guest Star is the real-life father of Scott Caan (Detective Danny Williams).
Series Regulars
Edit
Guest Starring
Edit
Other Cast
Edit
| Name | Portrayed by | Role |
| --- | --- | --- |
| Tony Archer | James Caan | A former NYPD Detective who is now a Private Investigator. |
| Bobby Raines | Dennis Miller | The murder victim. |
| Brandi Raines | Heather Sossaman | Bobby Raines's daughter. |
| Todd Dutton | Ben Bledsoe | Brandi Raines' husband |
| Mr. Zhang | Jimmy Borges | Proprietor of the produce market who illegally sells fireworks. |
| Doug Leland | Chris McGarry | The father of one of the children that Bobby Raines helped emancipate themselves |
| Karen Whitfield | Tanya Clarke | The murderer of Bobby Raines: killed by Todd Dutton |
| Len Marks | Elpidio Ebuen | The shipyard security guard whose absence led to Raines' death |
Ad blocker interference detected!
Wikia is a free-to-use site that makes money from advertising. We have a modified experience for viewers using ad blockers

Wikia is not accessible if you've made further modifications. Remove the custom ad blocker rule(s) and the page will load as expected.