Mohai (Offering) is the 5th episode of Season 3 in the remake version of Hawaii Five-0.
It's Halloween in Hawaii with the team investigating a grisly murder. They find themselves racing against time when evidence suggests that the killer will soon strike again.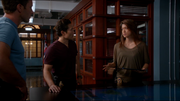 Hawaii Five-0 investigates a road accident where the drivers of both cars have gone missing, and they soon discover that the driver of one car, Lisa Heller, is dead, having died as a ritualistic sacrifice.
The team soon realize that Heller attended a party in a condemned house and that the killer has taken another victim, a man named Lucas Hayes.
Research finds that the killer is Seth Tilton, who is caring for his ailing grandmother Helen, who is also involved in helping her grandson.
Lucas escapes from the cage and is trying to call the police when Helen non-fatally stabs him. H50 storm the house and discover that Seth has fled with Lucas.
Helen misleads the team before she commits suicide by shooting herself with a pistol while also killing the HPD guard tasked with escorting her.
Steve McGarrett and Danny Williams arrive at the beach just as Seth is about to kill Lucas.
When Seth refuses to back down, Steve and Danny respond by shooting Seth dead and saving Lucas.
Dr. Max Bergman always dressed up like a Keanu Reeves characters for Halloween
Dr. Max Bergman: This year I decided to continue my tradition of Keanu-themed costumes by dressing up as Ted "Theodore" Logan from the 1989 classic Bill & Ted's Excellent Adventure.
Danny Williams: Party time. Excellent.
Dr. Max Bergman: No, no, no. That catchphrase is from Wayne's World. What you are looking for was simply "Excellent" or "Party on, dude," but thank you for the effort.
Recurring/Guest Starring
Edit
| Name | Portrayed by | Role |
| --- | --- | --- |
| Seth Tilton | Chris Marquette | The killer. |
| Jesse Hills | Chris Coy | A man who appears in the episode. |
| Helen Tilton | Lee Meriwether | Seth's grandmother and his accomplice. |
| Officer Hale | Albert Ueligitone | A man who appears in the episode. |
| Lisa Heller | Stefaney Rants | The murder victim. |
| Ilani | Kristen Nemoto | A woman who appears in the episode. |
| Lucas Hayes | Jordan Matlock | A man who appears in the episode. |
| Officer Wahl | Jon Mollison | A man who appears in the episode. |
References
Edit