Ohana (Family) is the 2nd episode of Season 1 in the remake of Hawaii Five-0.
When a former cyber terrorism expert is kidnapped, Steve and the team are assigned to find him given that the man's disappearance might have national security implications but the team soon discover that all is not what it seems...
Roland Lowry, a former cyber terrorism expert with the National Security Agency is talking to his son, Evan when the van that Roland is in is ambushed with the bodyguards all being shot dead and Roland himself being kidnapped.
Due to the fact that Lowry's kidnapping is of national security, the Governor's Task Force of Lieutenant Commander Steve McGarrett, Detective Danny Williams, Lieutenant Chin Ho Kelly and Officer Kono Kalakaua are tasked with finding and rescuing Landry.
Fearing that the kidnappers may target Landry's son, Evan, Steve assigns Kono to guard Evan with Landry's girlfriend, Natalie Reed helping.
However, it is soon revealed that Natalie is not only an Serbian national but she is also working for Drago Zanovic. Kono attempts to fight Natalie but is forced to surrender after discovering that Drago is holding Evan at gunpoint.
Eventually, Steve, Danny and Chin get suspicious of Kono's disappearance and they soon discover thanks to Danny's hacker friend, Adam Charles AKA "Toast" that Landry was working on a "skeleton key", a computer program that would allow the user to hack into anything.
Having gotten possession of the program, Drago and his gang are using it for a meeting with another gang and to whom Drago attempts to smuggle the program to.Drago puts Kono and evan on chairs with ductape he then gets information from Landry,Evan tries to ask Kono what is happening but Drago overhears them.Drago tells Evan to shut up but Kono stands up for him.Kono then gets smacked to the ground hard.Drago and Natalie talk in Serbian about what they should do to Kono,Natalie then puts Kono back on the chair.She then proceeds to grab Kono's hair and pushes her head dismissively.While Kono was getting abused she secretely acquired a metal object to cut the rope off her hands.
As this goes on, Steve, Danny and Chin get ready to invade the warehouse. They did so and end up killing members of the gang as well as Drago's own group.
Drago who managed to survive as well is later arrested.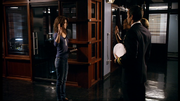 A few hours later, with Steve and Danny attending, Chin officially inducts Kono into the Honolulu Police Department which results in Kono also becoming the fourth and final member of the unnamed Task Force.
Series Regulars
Edit
Recurring/Guest Starring
Edit
Other Cast
Edit
| Name | Portrayed by | Role |
| --- | --- | --- |
| Evan Lowry | Colin Ford | Roland's young son. |
| Roland Lowry | Scott Cohen | A National Security cyber-terrorism expert. |
| Natalie Reed | Ivana Miličević | Roland Lowry's girlfriend who is later revealed to be in league with the gang responsible for kidnapping him. Her real name is Nadia Lukovic. |
| Drago Zanovic | Peter Stormare | The head of the gang that kidnapped Roland Lowry. |
| Adam Charles | Martin Starr | Nicknamed "Toast", he is a computer hacker. |
| Elevator Mom | Berit Kawaguchi | A woman who appears in the episode. |
| Elevator Dad | Paul Leo Klink | A man who appears in the episode. |
| Elevator Son | Joshua Stankovits | A young boy who appears in the episode. |
Related Pages
Edit