Ohuna (The Secret) is the 7th episode of Season 3 in the remake version of Hawaii Five-0.
While the team investigates the murder of a young computer hacker who may have information on a missing mobster, McGarrett tries to stage a long-needed reunion between his mother and his sister.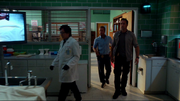 Zack Slater, a teenage expert computer hacker, is released from juvie but is abducted shortly after and later found dead in a van by members of the Hawaii Five-0 team, who have been called in to help in regards to Zack's kidnapping.
As Officer Kono Kalakaua searches Zack's room, a mercenary team led by South African mercenary Sean Winston arrives, taking everyone hostage.
Kono offers to give the team the password but only if the team lets everyone else go.
The mercenaries accept and escape in a truck that H50 provided although it's later revealed to be a trap.
As Danny Williams and Chin Ho Kelly stay behind in the Camaro, Steve McGarrett crawls to the top of the trunk and waits for a chance to strike.
Inside the truck, Kono successfully overpowers Winston while Danny, Steve, and Chin take down the rest of the team, arresting them.
Steve later reveals to Kono that Zach had gained information on a mobster, Richard DeSalvo, that Winston and his group had helped escape protective custody three years previously.
Steve and Chin eventually track down DeSalvo and arrest him while Kono subsequently informs Zach's family what he did which leaves them relieved and comforted although they're still grieving over their son's murder.
Meanwhile, Steve's sister, Mary McGarrett returns for a visit, now a caregiver with a boyfriend, Morty Sapperstein in tow but is unrelenting in not wanting to see her mother.
Her boyfriend however, convinces her to see Doris, reciting his story when his estranged daughter was killed years before by a drunk driver from Oakland who had fallen asleep at the wheel.
A while later, Mary and Doris share an emotional hug as Steve looks on.
Recurring/Guest Starring
Edit
| Name | Portrayed by | Role |
| --- | --- | --- |
| Morty Sapperstein | Shelley Berman | An elderly man Mary is looking after. |
| Mr. Slater | Alan Ruck | Zack's father. |
| Patricia Slater | Melinda McGraw | Zack's mother. |
| Sean Winston | Carlo Rota | A South African mercenary responsible for kidnapping and murdering Zack Slater. |
| Kong Liang | Russell Wong | A criminal. |