Olelo Ho'Opa'I Make (Death Sentence) is the 13th episode of Season 3 in the remake version of Hawaii Five-0.
Synopsis
Chin awakens to find himself imprisoned inside Halawa Correctional Facility where faces from his past emerge with a vengeance. Meanwhile upon learning where Chin really is, Steve, Danny and Kono launch a rescue operation to save their friend and colleague before it's too late.
Plot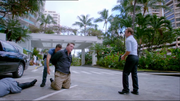 Lieutenant Chin Ho Kelly is drugged and abducted, later waking up behind bars at the Halawa Correctional Facility.
Chin attempts to escape but is taken to corrupt Detective Kaleo.
Criminal Sang Min sides with Chin and both attempt to escape together but Kaleo starts a prison riot, triggering a lockdown as the inmates riot.
Meanwhile, Steve McGarrett, Danny Williams and Kono Kalakaua become suspicious when Chin misses an appointment with a psychiatrist. They also discover that Paul Delano who is responsible for kidnapping Chin is the brother of corrupt cop Frank Delano who Chin killed in cold blood in La O Na Makuahine.
With time of the essence and access to the prison no longer an option, Steve, Danny and Kono use Kamekona Tupuola's helicopter to get to Halawa where they use a combination of smoke grenades and shotguns loaded with bean bags to stop the inmates from attacking them.
Chin and Kaleo later engage in a fight which ends with Chin killing Kaleo with Kono helping Chin to safety. The team also rescue nurse Leilani while Sang Min later escapes by posing as a prison guard.
Kono contemplates snooping into Adam's Yakuza affairs, and eventually manages to clone his cell phone.
Notes
Kono Kalakaua is the only original cast member not to spend time in jail. Steve McGarrett spent just over a week in Halawa Maximin. [1] Chin spent 8 hours in Halawa Maximin, [2] and was later arrested 2 years later. [3]. And Danny Williams spent a few days in a Colombian prision. [3]
Deaths [4]
Quotes
Trivia
Cast
Main
Recurring/Guest Starring
| Name | Portrayed by | Role |
| --- | --- | --- |
| Sang Min | Will Yun Lee | A criminal and human trafficker who has began to reform. |
| Leilani | Lindsay Price | A nurse in the Halawa Correctional Facility. |
| Adam Noshimuri | Ian Anthony Dale | Kono Kalakaua's boyfriend and former head of the Yakuza. |
| Detective Kaleo | Jason Scott Lee | A corrupt Detective imprisoned for killing Danny Williams's former partner. Dies after getting into a fight with Chin. |
| Kamekona Tupuola | Taylor Wily | An associate of the H50 team, and owner of The Shrimp Truck. |
| Sgt. Duke Lukela | Dennis Chun | Sergeant with the Honolulu Police Department. |
| Dr. Charles Fong | Brian Yang | Forensic Scientist who works for the HPD and H50. |
| Joao Caetano | Troy Ignacio | A suspect the H50 team previously encountered during a case. |
| Dave Lockhart | Kila Packett | Another suspect the H50 team previously encountered during a case. |
Recurring/Guest Starring
| Name | Portrayed by | Role |
| --- | --- | --- |
| Paul Delano | Daniel Baldwin | Frank Delano's brother. |
| Warrick | Matt Gerald | A man who appears in the episode. |
References