Olelo Pa'a (The Promise) is the 20th episode of Season 3 in the remake version of Hawaii Five-0.
Steve and Catherine head to North Korea so that Steve can retrieve the body of a fallen comrade. As they battle to survive in a country where their enemies want them dead, Steve finds himself remembering the mission that resulted in the death of his friend as he and Catherine soon find themselves fighting for their lives.
A series of flashbacks show Lieutenant Commander Steve McGarrett training with his friend, Navy SEAL Freddie Hart, who originally considered leaving until Steve convinced Freddie to stay when at Naval Amphibious Base Coronado boot camp.
As such, Freddie becomes a better SEAL than Steve.
In September 2010, mere days before the events that took place in the Pilot occur, Steve and Freddie engage in a top-secret mission in North Korea, the objective being to capture Anton Hesse who is under the protection of a militia group owned by Han Ji-Woon.
Tragically, Freddie is mortally wounded in the process with Steve getting to safety despite being reluctant to leave Freddie behind.
In the present day, Steve and Catherine Rollins enter the Korean Demilitarized Zone to bring Freddie's remains back to the United States, but the body they receive is not Freddie's as Steve remembers that Freddie had a tattoo of his wife's name on his arm, whereas the current body does not.
Steve and Catherine then sneak into North Korea to retrieve the remains. Steve captures a militia man and finds where Freddie is really buried, only for Steve to be devastated as he discovers that Freddie's remains have been desecrated.
Furious, Steve decides to get revenge on Ji-Woon and although both Steve and Catherine are captured, they're successful in freeing themselves with Steve killing Ji-Woon.
The mission complete, Steve and Catherine return to the United States.
Days later, Freddie Hart is finally buried with full military honors with Steve, Catherine, and Joe White, with numerous members of the United States Navy and SEALS also in attendance.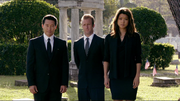 Steve is also relieved to discover that Chin, Danny, and Kono are at the funeral albeit at a small distance due to the fact that they are civilians.
Deaths [1]
Recurring/Guest Starring
Edit
| Name | Portrayed by | Role |
| --- | --- | --- |
| Freddie Hart | Alan Ritchson | A Navy SEAL and Steve's close friend. |
| Han Ji-Woon | Rick Yune | The leader of a militia group. |
References
Edit