Popilikia (Misfortune) is the 4th episode of Season 3 in the remake version of Hawaii Five-0
The team investigates the murder of a polo player who was decapitated by some garroting wire and discover that the death may be connected to a kidnapping case that occurred ten years ago while Doris returns.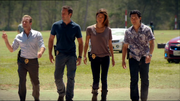 Professional polo player Billy Keats is out riding his horse and ends up being decapitated, killing him instantly which prompts the Hawaii Five-0 team led by
Lieutenant Commander Steve McGarretto
investigate.
At the crime scene, Medical Examiner Dr. Max Bergman shows Steve and Detective Danny Williams some garroting wire tied between two poles which means that the death is a homicide.
The team investigates and discover that Jake Madsen, one of Keats's friends was kidnapped ten years previously but young Jake managed to escape before a ransom was paid.
Furthermore, the kidnappers were all convicted but one, Randy Thorpe was released with Thorpe stating that he was paid by an unknown party to plant a bomb in his car.
The team soon realize that Amanda Madsen, Keats's lover and also Jake's mother was the real target of the explosion. She is later brought to hospital but dies under mysterious circumstances with Steve soon discovering that Jake suffocated his mother out of revenge because Jake resented her for having an affair and also because Amanda was against paying the ransom when Jake was kidnapped ten years previously.
Meanwhile, Steve meets his mother, Doris McGarrett who claims she shot at the floor was due to a struggle between her and Wo Fat.
Steve later reveals to Danny that he does not believe her.
Doris meanwhile, secretly recovers a microfiche from a cavity under McGarrett's home.
Series Regulars
Edit
Guest Starring
Edit
Other Cast
Edit
| Name | Portrayed by | Role |
| --- | --- | --- |
| Spencer Madsen | Jere Burns | Jake's father. |
| Esmerelda | Bai Ling | A woman who appears in the episode. |
| Jake Madsen | Guy Wilson | The killer. |
| Nicole Carr | Arielle Kebbel | The murder victim's girlfriend. |
| Billy Keats | Robbie Amell | The murder victim. |
| Amanda Madsen | Sara Finley | Jake's mother. |
| Al Reingold | Kevin Carter | A man who appears in the episode. |
| Randy Thorpe | Jack Dimich | A man who appears in the episode. |
Ad blocker interference detected!
Wikia is a free-to-use site that makes money from advertising. We have a modified experience for viewers using ad blockers

Wikia is not accessible if you've made further modifications. Remove the custom ad blocker rule(s) and the page will load as expected.